If you would like to list your saddle for sale here, please use the 'Post Your Saddle Here' link below to "purchase" the advertising. 
My website gets hundreds of hits per day, is well cataloged by search engines, and I have had great success helping many saddles be sold.
I will also post a link to the Moss Rock Endurance facebook page to add more exposure to your sale ad. 
Saddle posting stays until you tell me the saddle is sold, so no time limit!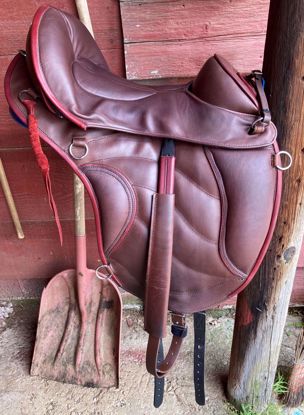 Practically new! 17" Sensation Dressage Trail treeless saddle. New in Jan 2021. Not the original owner, but saddle appears VERY lightly used (minor scuff and billet marks). Selling because the dressage seat is too deep for my taste (more hunter-based riding). Specs: 17" Dressage Trail model, shortened flaps (best for riders under 5'5"), upgraded seat w/ extra poron (VERY comfy). Price includes 1" leathers, leather tubes, twist bolster, older, used EcoGold saddle pad. PRICE: $1,995 includes shipping (contiguous US only).