There are now 3 Buttera models - the standard and Maxxi Buttera (both available on the Ghost base and as a BBP) and a toddler version called the Vittorio (after the saddle makers grandson).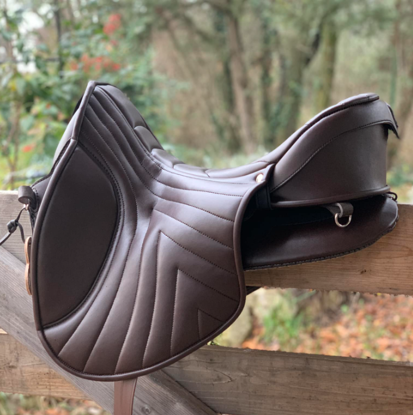 Looking for a deep seat? Fabulous security? The Buttera is available as either a regular Ghost saddle or a Cavallin Bareback Pad. Note - the deep seat has a slightly smaller feel, so you may want to consider going up a seat size.

This model is popular for arena riding, trail and endurance. It is an excellent choice if you have a young or unpredictable horse and would prefer to stay put when your horse spooks. A western skirt and/or fenders can be added for saddle stability or to change saddle's look.

The blocks are attached inside a pocket under the knee-roll, and can be removed.

This saddle can be set up with either English or Western rigging.

This model can be ordered with a 4cm higher cantle, making it a Buttera Maxxi, which offers even more security than the standard Buttera. The Buttera Maxxi is priced at $1450 and looks like the saddle knights used for jousting!


Customer comment!
If you're not getting any younger (check) joints getting a bit creaky (check) or simply the owner of a very silly horse with an overdeveloped sense of humor (check, check, check) then this saddle is for you. It is the most secure saddle I have ever sat on, or rather in, as it embraces you like an armchair. If your beloved equine slams on the brakes because a stone has moved since the last time you rode this path - no problem. If he/she goes from 0-30 due to a pheasant ambush, again, no problem, you are held by the large pommel in front and the high cantle behind. I truly believe it to be the most secure saddle on the market today and am delighted to own one.