If you would like to list your own saddle for sale here, you can use the 'Post Your Saddle Here' link below to "purchase" the advertising.   I get hundreds of hits a day, am well cataloged by search engines, and have had great success helping many saddles be sold. Saddle posting stays until you tell me the saddle is sold, so no time limit!
Purchased new, never ridden. Not a flex tree. Wide tree, extra large pommel. Well-padded 16" Western seat. Stirrup leathers included, loop directly over saddle bars, with 1" fore-aft adjustment space. Weight approx. 15 lb, 22" panel contact surface. Asking $1,000, includes shipping within the continental US. PayPal ok. CONTACT: terrybanister@hotmail.com or 805-341-6195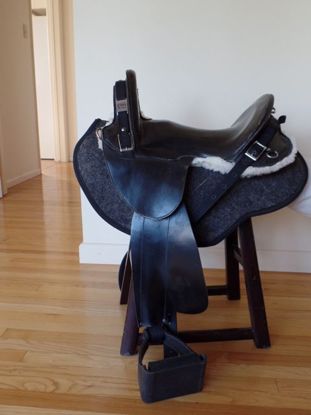 14" seat Stonewall "Classic" Endurance saddle for a petite rider and a lean equine. This saddle is in good shape with like-new nylon rigging and wool flocking. Comfort stirrups and Stonewall felt saddle pad included. Asking price is $500 including shipping in the continental United States. Contact: Harijot at harijot2@earthlink.net or phone 310-559-7200.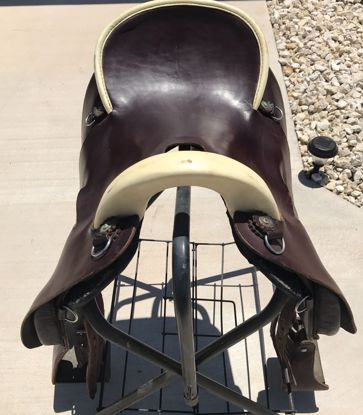 Custom made 16" International. Mahogany leather with a rawhide pommel and pencil roll cantle. In excellent condition with a minor blemish on pommel. Smooth seat and fenders are one solid piece of leather, no seams. Standard tree, knee rolls, seven D rings, leather covered endurance stirrups, and a set of fitting inserts included. New the saddle sells for $2695.00, asking $1000.00.